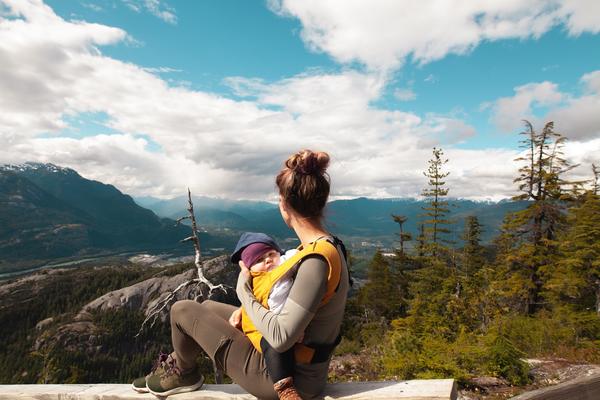 New-Mom Fitness Tips and Baby-Friendly Workouts
It's no secret that new moms have a lot on their plate. Focussing on fitness may not be the first thing on your mind. However, if you're longing to shed those pregnancy pounds or just looking for a way to help your body regain strength, you're in luck! There are plenty of ways to work out when you're an exhausted, sleep-deprived parent. You can even bring your adorable new baby along. Here are some great tips for getting back in shape as a new mom and how to get started.
Don't Exercise Until Your Body is Ready
First, it's important to talk to your doctor or midwife before jumping back into exercise after giving birth. You may have to wait around 6 weeks before you get the go ahead. Generally, you should be able to do some light exercise soon after giving birth, as long as you kept active during pregnancy and didn't have a cesarean section. Still, it's best to check with your doctor first!
Starting slowly with low-impact aerobic activity is a good way to help your body rebuild strength after pregnancy. You may want to avoid any workouts that stress your abdominal muscles, like sit-ups or crunches, for several months. Instead, try to find gentle postpartum abdominal exercises for the time being.
Be Kind to Yourself
Don't spend your first few magical months with your newborn obsessing and stressing over the extra pounds. Everyone knows it's difficult to find the time to exercise when you're a new mom. But just because you can't fit 30 solid minutes of exercise into your day, doesn't mean you should abandon the idea altogether. Instead, try to do some quick physical activity whenever you have 5 or 10 minutes to spare. For example, fit in some push-ups or a plank while your baby has tummy time. Or, do some impromptu squats with your baby in your arms. Just make sure they're old enough to hold up their head, neck, and torso on their own.
Go for a Gentle Walk
Walking is one of the best forms of exercise for new moms. It's gentle on your body and your baby will love getting outdoors too. Just strap your baby into a stroller and head out the door. Try to avoid walking on gravel or other rough surfaces as it can be difficult to push a stroller on these and the vibrations aren't good for your child or your arm joints.
If you can, find a paved path that goes through nature or greenery area, such as a park. Multiple studies have found that walking in nature is a great way to reduce stress and improve your overall mood.
Don't forget to bring plenty of water for yourself and supplies for your baby. Bring a spare nappy and a wet bag, as well as anything else you need to do a quick change on the go. If you're stopping in the park to relax, try out this handy travel play mat for safe and comfortable leisure time on the grass. Importantly, don't forget baby-safe sunscreen to protect your little one's sensitive skin while you're out and about.
Learn Some Simple Indoor Exercises You Can Do with Baby
Get the most out of your workouts by enjoying some baby bonding at the same time. For young babies who can't yet hold their heads up, place them in a front carrier and make sure their heads are well-supported during your exercises. Gentle Plié Squats and walking lunges are great options since the weight of your baby will increase your workout intensity. Or, try dancing to some music you love. Just avoid bouncing or turning quickly for your baby's sake.
Once your baby is around 3 to 4 months old and can comfortably hold their head up, you can try out some additional baby exercises, like baby bench presses and bridges. Check out this article by Fit Pregnancy for more great ideas.
Start Stretching
Yoga is a great way to relax a frazzled mind, improve your posture, and relieve joint or muscle pain. Some of the best yoga poses for new moms are those that relieve tension in the back and gently strengthen the core:
Child's pose

 with Kegel exercises

Laying on your back with your legs up against the wall
Get Your Husband Involved
New moms aren't the only ones who could use some exercise. In fact, dads are an average of 10 pounds heavier than non-dads. If you're a dad who is busy working and helping around the house, you'll want to spend every spare minute with your baby. Luckily, dads can also participate in baby-friendly exercises. Almost any exercise you can do with a kettlebell, you can do with a baby. You can also try a few bicep curls with your baby in their car seat. This doubles as a great way to help your baby calm down with the relaxing up and down motion.
Try to Get Some Rest
Rest is one of the most important parts of caring for your body after giving birth. I know, you probably won't get a solid sleep for a long time. But at least you can try to fit in time for rest whenever possible. When your baby sleeps, you should also take the time to try and sleep. Even if you can't fall asleep, just laying down to rest can be restorative and provide you with some additional energy for the rest of the day. Try not to drink coffee in the mornings as this will mask your need for sleep and keep you from getting those helpful spontaneous naps in the middle of the day.
Listen to Your Body to Avoid Overdoing it
Too much physical activity too soon after delivery can be unhealthy. So, make sure you take a break and talk to your doctor if you notice any of the following:
Bleeding restarts

Pain during exercise

Feeling exhausted instead of invigorated

Weak and shaky muscles

Elevated morning heart rate
A good social support network is key to keeping you stay accountable for your fitness goals. Find some other moms to accompany you on your stroller walks. Or, join a group fitness class if you have someone who can watch your baby. There are even mom and baby fitness classes you can attend, which are a great way to get out of the house and spend valuable bonding time with your little one.